Cycling 2,300km to Croatia
The story
Just got back from this amazing trip!
I cycled across France, Italy, and Croatia for 50 days.
My girlfriend rode with me for the first 10 days which was awesome 😍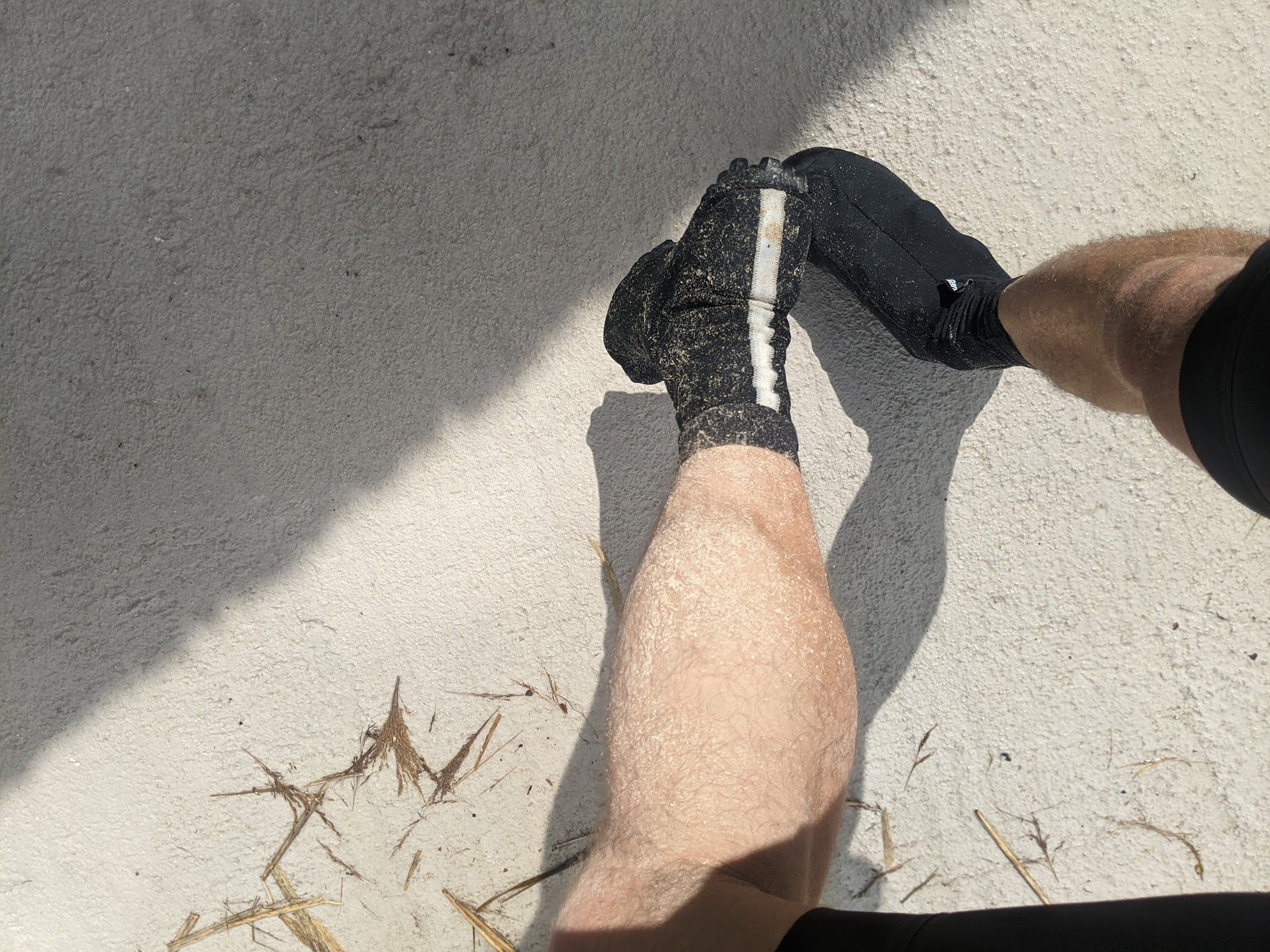 Then half the time I was by myself, then friends and family joined me for the other half.
It was great...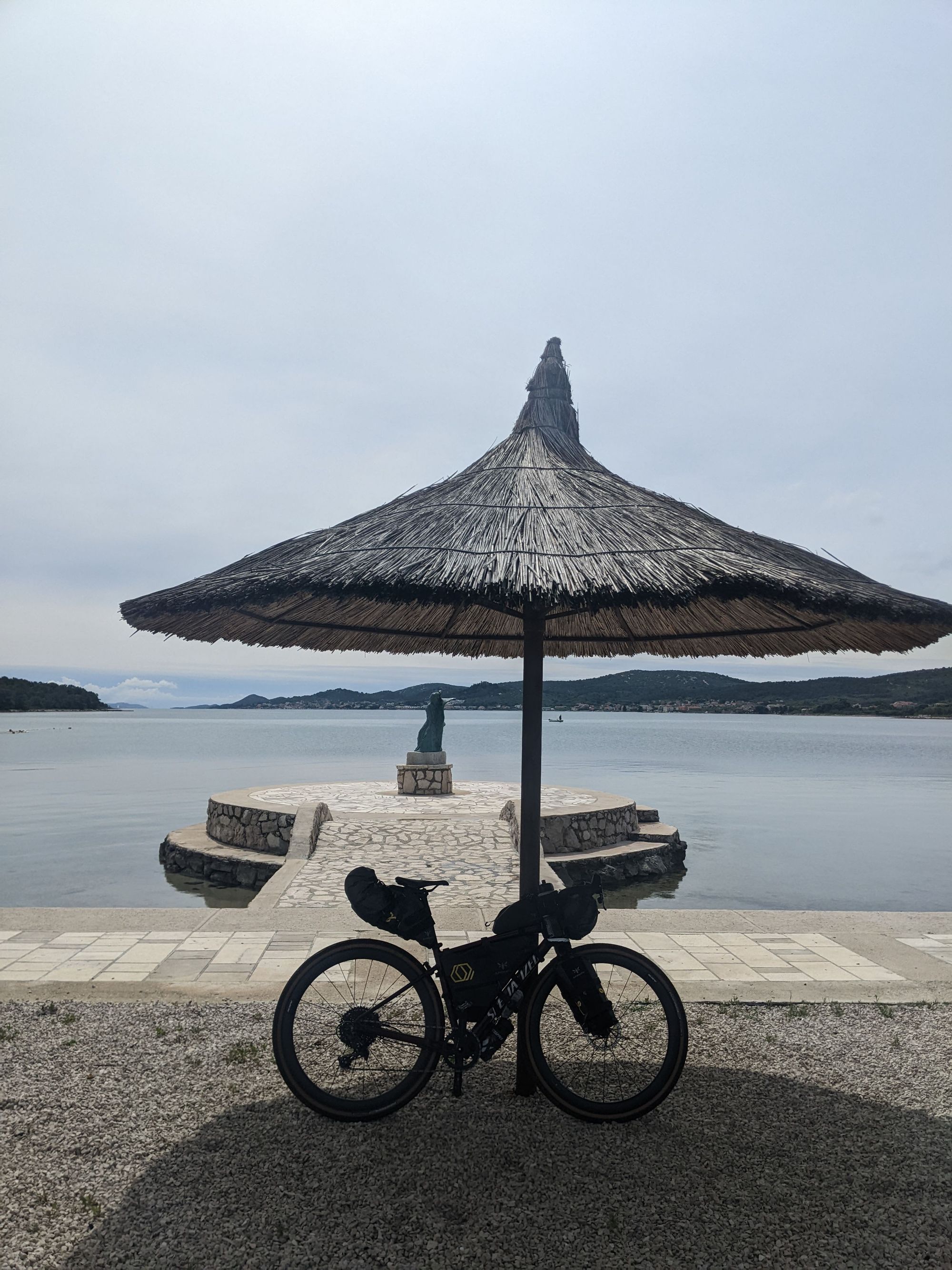 I ended the trip early: I dislocated my elbow after 2,300km.
Silly fall: I failed to unclip my shoes!
Thankfully I was cycling with friends who took great care of me...
The local Croatian hospital fixed me (surgery was required), then I flew home.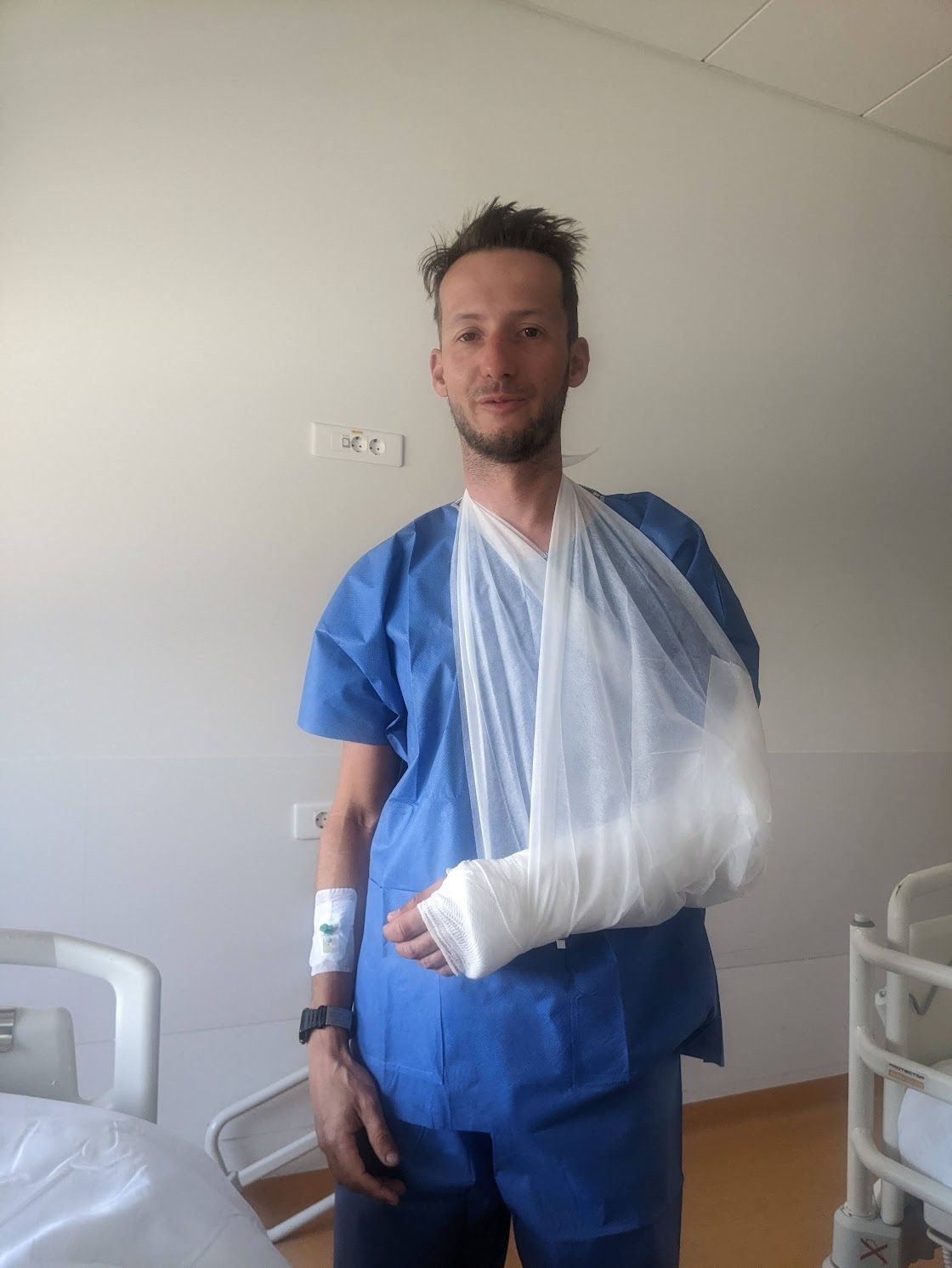 Frustrating, since I already had the same injury...10 weeks before leaving.
My plan was to travel further but I need rest. Such is life!
I bring home tons of great memories.
Friends and family joined me on the road which was awesome :)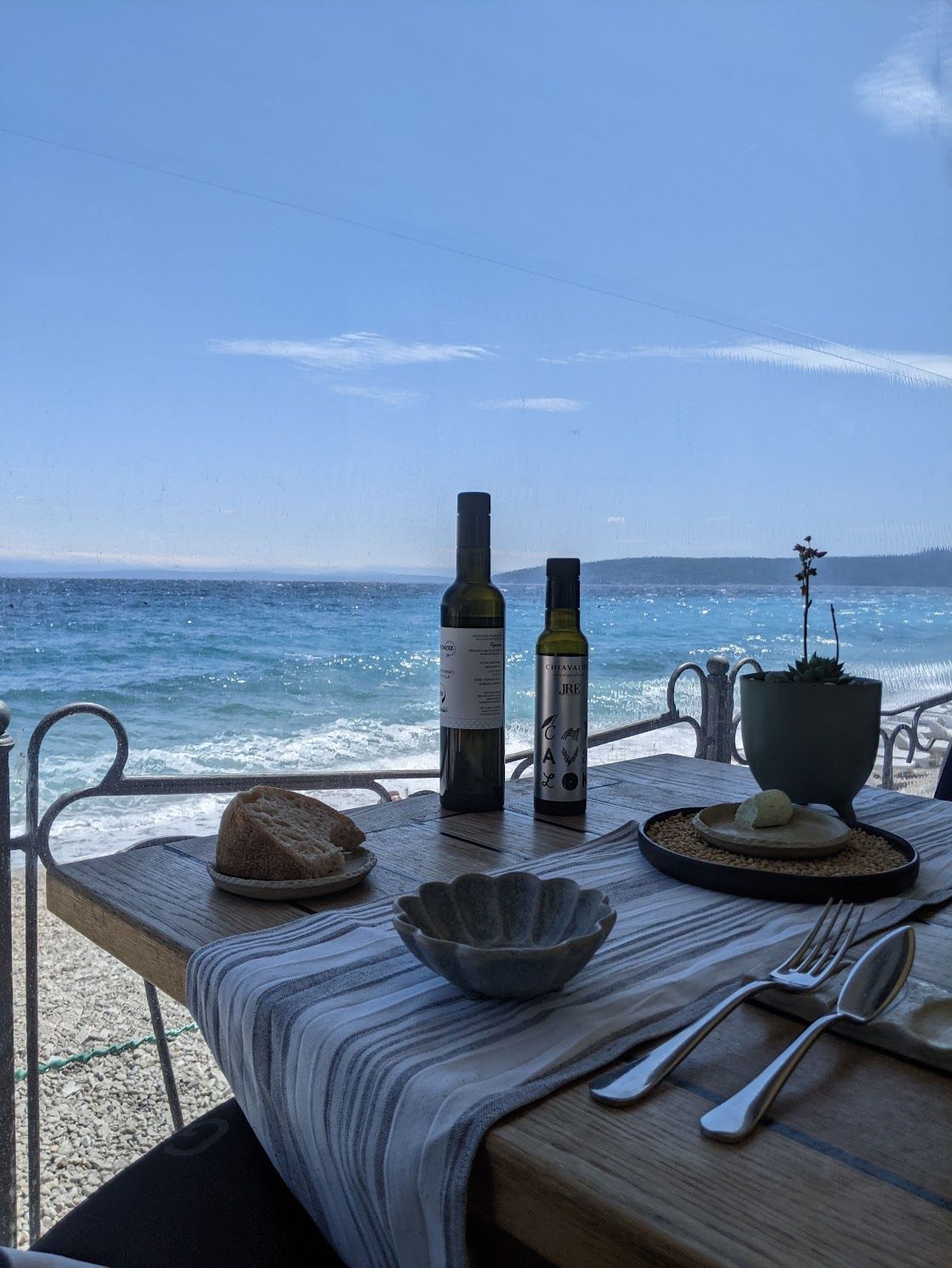 How I prepared for the trip
Previous trips
I purchased my gravel in 2022 and rode 3,000km within 6 months, which is a lot for a rookie. I also cycle to work daily.
I completed several local cycling tracks, including Flow Vélo, Vélo-Francette, and parts of Vélodyssée.
Riding solo for 3-7 day cycling adventures taught me a lot. Here's what I learned:
I don't love camping. France has great meals, camping stoves are meah. Camping is fine on beautiful sites, else I'd rather sleep on an actual bed.
On a loaded bike, any kilometer ridden past 100km isn't fun.
I over-eat for comfort. Spotting hypoglycemia gets easier overtimes.
My body won't cycle in warm weather. 30°C range isn't an option. Even with tons of drinking water. I suffered heat exhaustion, the worse bout had me bedridden for 36 hours. I picked April-May for my trip.
I didn't pedal correctly. Just like cars, cyclists monitor their rotation per minute. Good cadence is between 80-100 rpm, I averaged 70 rpm. I relied on leg muscles more than I did on cardio, which isn't great over time.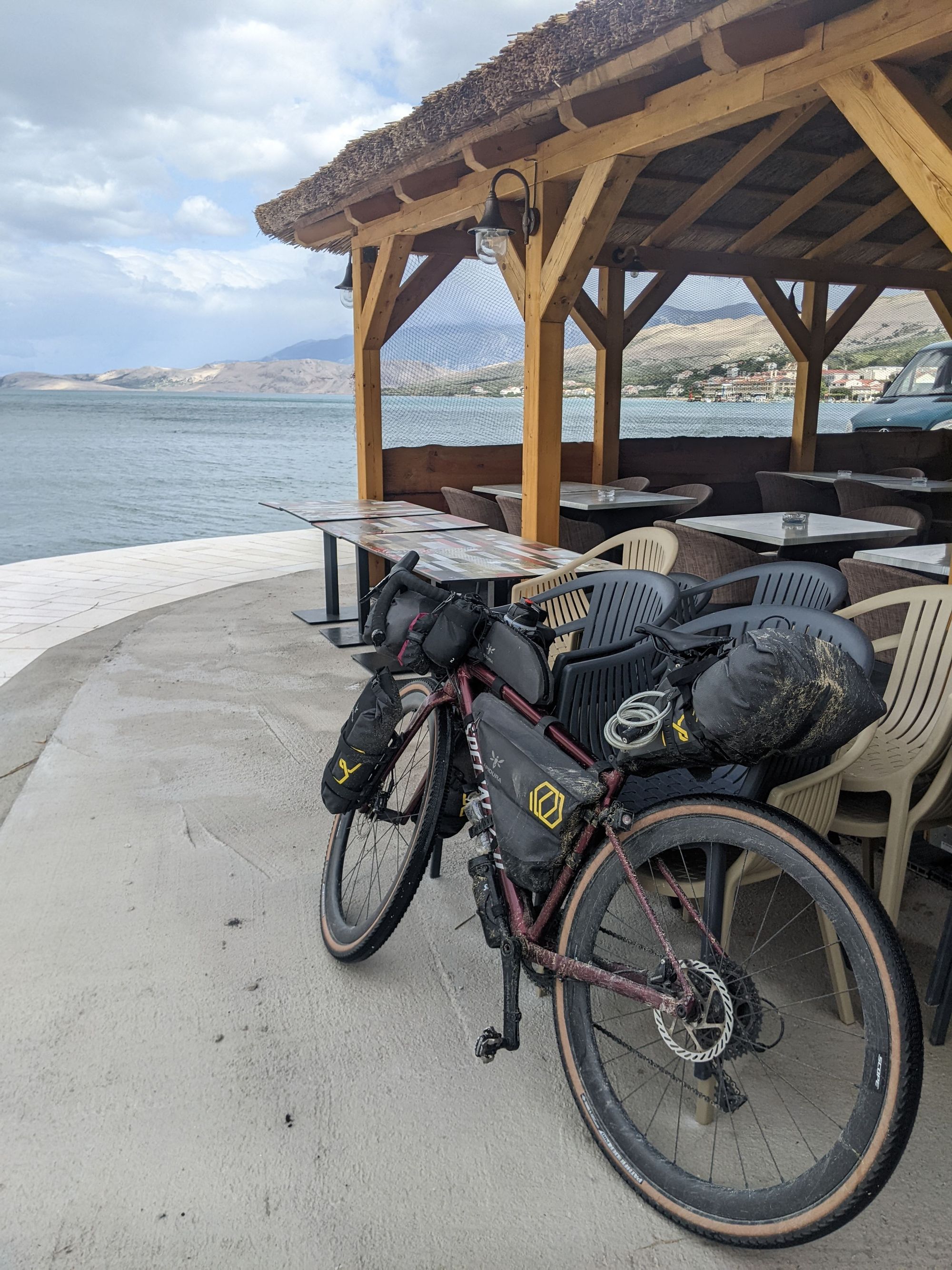 Physical Preparation

Tons of blog posts start with "I've never cycled before, but I'm going from London to Istanbul today!". Then, invariably, they get stranded on day 5 with saddle, knee, or hand issues. Sucks.
I want to feel comfortable. Why travel and feel uncomfortable? I'm prone to injuries, so I took no risk.
I did a bike-fitting study (Retül Fit) with a pro to reduce saddle sore and back pain.
I would 100% recommend it to anyone who's serious about cycling regularly over 60km. Anyone riding clipped-on should also do this.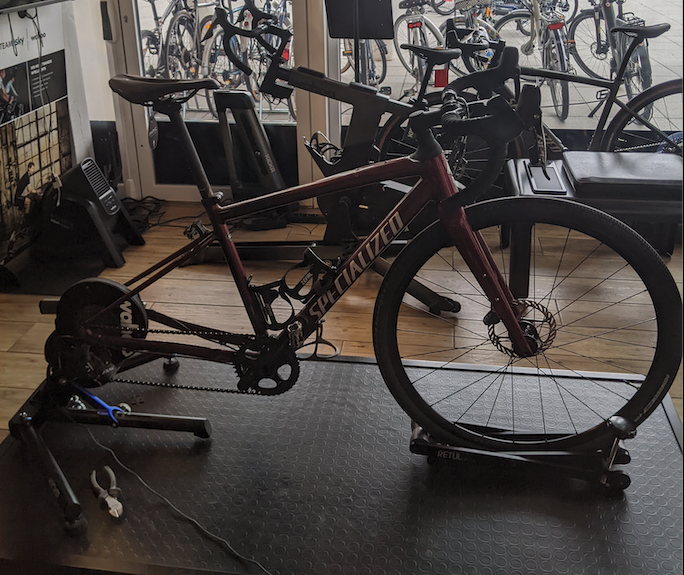 My physiotherapist gave me a daily stretching routine to prevent back/neck/hand injuries.
My home trainer carried me through the winter, using Zwift virtual world to train and race about once a week.
My goal was to average 100km/day steps by myself, reducing to 70km/day steps when family/friends rode along. Long enough to make progress, short enough so that it wouldn't get exhausting, with one rest day per week.
I don't love camping. I aimed to camp half of the time but ended up not camping at all. More logistics, less flexibility, more comfort at night? It's a trade-off: Less flexibility, less weight.
My dad brought me the tent in Italy, I didn't use it. Too much wind and rain for it to be fun.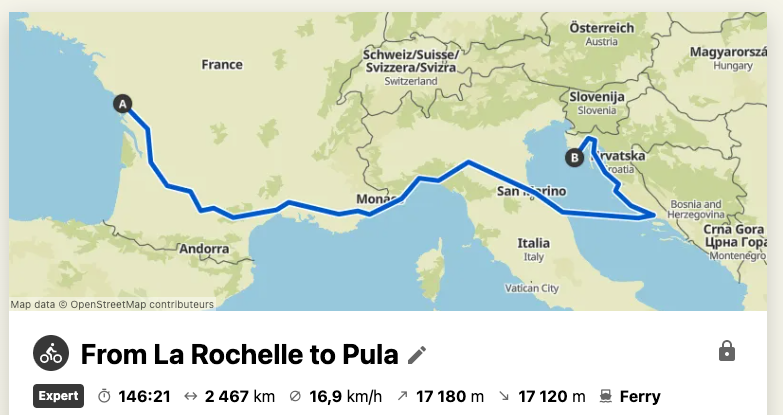 Setup / Gear

Here is some consideration I had while building my setup:
Practice: I favor long-distance rides on tarmac roads, not gravel.
Weight: As light as possible, whilst carrying camping gear.
Durability: Anything I buy should last 5+ years.
Speed: Not hugely important, but I love riding clipped-on.
Self-reliability: Not critical, will ride in Europe near towns.
Budget: High, I enjoy good gear/meals/accommodations.
Return journey: Get back home by train, not plane. I failed as I got injured.
It took me 9 months to go from thinking about a trip to owning all the gear I wanted for it. Now that I know what I like, doing it again would probably take a few weeks.
I prepared slowly. You don't have to spend weeks deciding on which rear light feels best. But it can be fun if you're that type of person.
Wide tires (42mm) brought comfort for the weight I carry. Carbon wheels help with momentum. I'm not racing, so it's a luxury. I enjoy the sound they make.
I didn't want to cycle with a rear rack and panniers and didn't know about Tailfin at the time. My bags come from Apidura, and turn out to be quite durable.
NB: There's a great secondary market for bikepacking bags in France. New-ish equipment will be resold at 80% of retail value. Some of my bags were bought/sold second-hand.
The dynamo-hub front wheel was a maybe. As always, 20% of what I brought wasn't useful, it's hard to know which 20% is prior to leaving.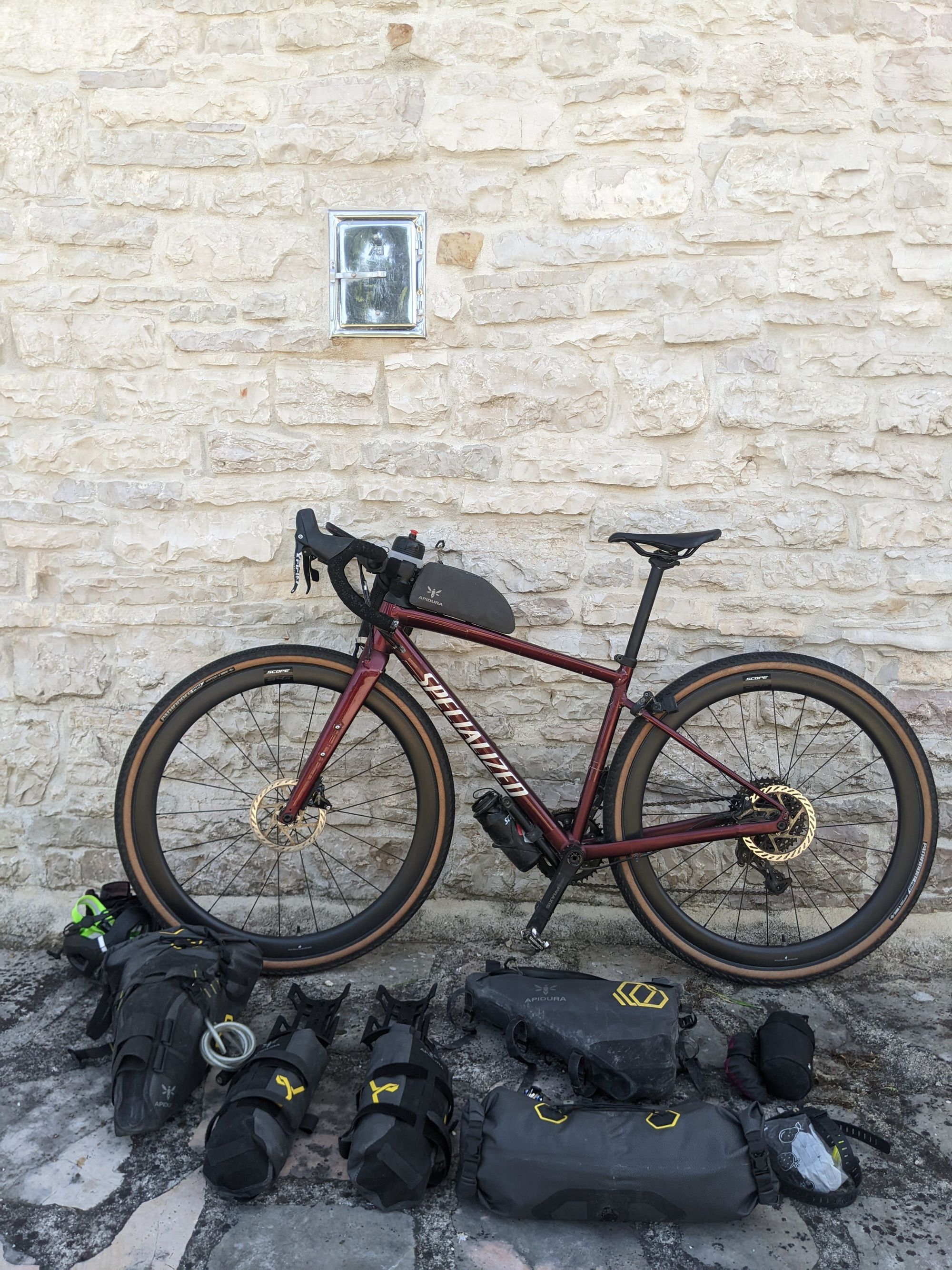 Bike
Specialized, Diverge Comp E5 2021 (link) with "stock everything", except:
Wheels: Carbon Scope All Road S4 (link)
Saddle: Specialized Power
Tires: Pathfinder Pro
Rear-mirror: The Beam Corky
Bikepacking Bags
Apidura Saddle Pack Expedition 17L
Apidura Bolt-on Top Tube Bag Expedition 1L
Apidura Handle Bar pack Expedition 9L
Apidura Full Frame Pack Expedition
Apidura Fork Pack 3L  Expedition * 2 held by Topeak Versacage
Decathlon Riverside Food Pouch 1L
Decathlon Forclaz Waterproof bag 1L
Water: 1L + 0.5L
Clothing
Shoes: Specialized VTT Recon 3.0 & Seagale Recycled Breezy Runners
Bibs: Rapha Men's Core Cargo Bib Shorts & GORE Long Distance Bib Short+
Jersey: Rapha Brevet + Decathlon Gravel Cycling and Touring Merino Wool
Socks: 1x Seagale Sport Merino Socks
T-Shirt: Seagale Long-Sleeve Henley T-Shirt
Pants: Decathlon Evadict waterproof pants. awesome pants.
Cold weather jacket: Castelli Idro 3
Rain jacket: Rapha Down Jacket
Gloves: specialized
Leg warmers: Intersport
Sunglasses: Oakley Sutro S
Visibility Yellow vest - Wowow
Beanie & Hat & Buff - Decathlon.
Camping Gear
Tent Forclaz 1 Person Decathlon
Air Mattress 1-Person Decathlon
Sleeping Bag - Sea to Summit Sp1
Pillow -Decathlon
Sea to Summit Towel
Opinel Knife + Decathlon Spork
2*toiletterie bag
Electronics & Spare
Head-Unit: Garmin 530 GPS
Routing Software: Komoot Pro
Lights: Bontrager Ion Pro RT/Flare RT
Batteries: 10,000A
Amazon Kindle
2 inner tubes
Decathlon lock (5€ coffeeshop lock)
Moleskine Notebook + 2 pens
Wallet
Repair Kit (zip locks, Multi-tool, rustine, 2* Full-size Allen keys)
Black Diamond ski Straps * 3
Misc
TranZbag Road train bike cover (link).
Insurance: Sharelock
Hometrainer: Zwift on Wahoo Kickr Snap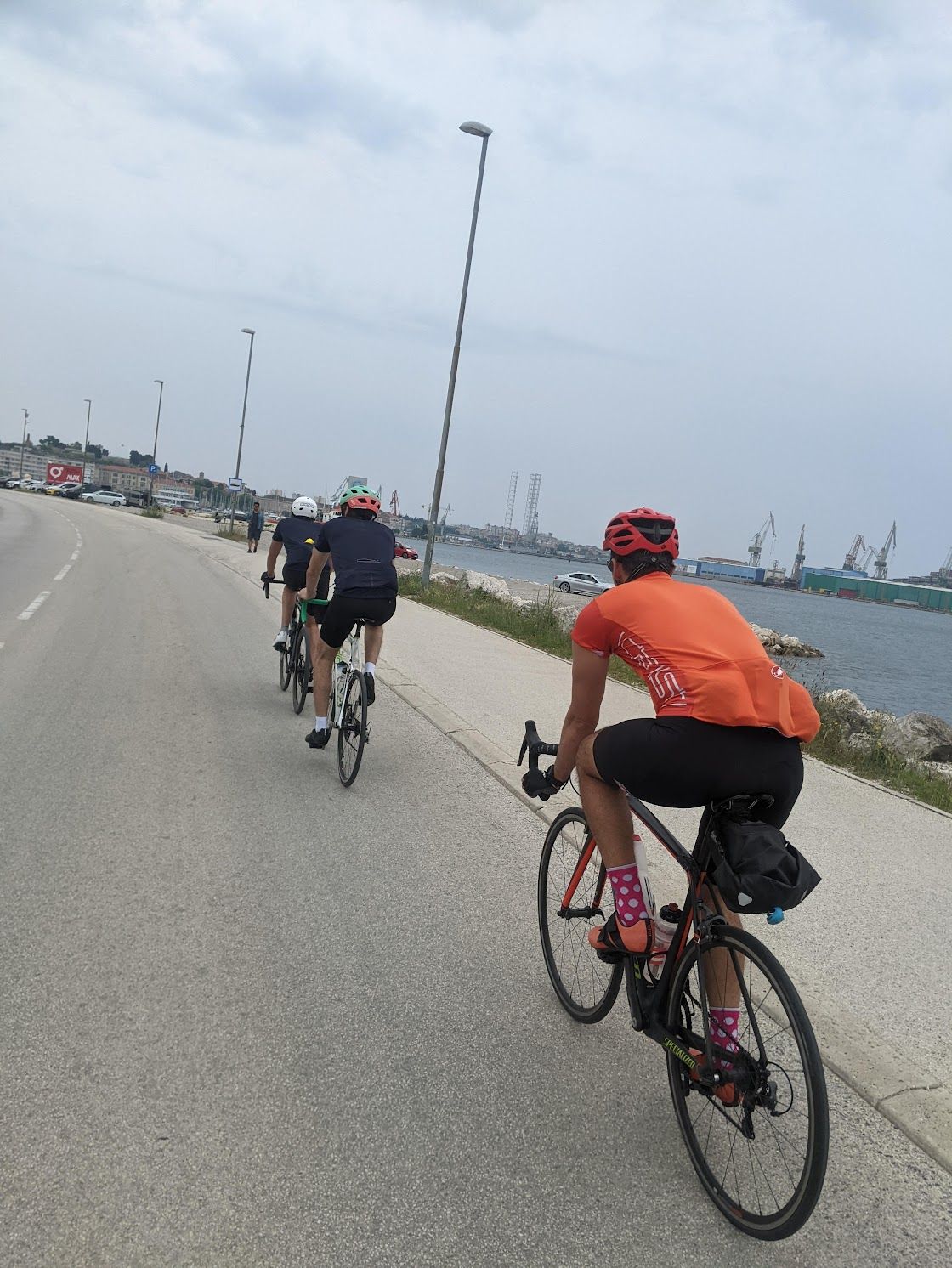 My learnings:
Packing for 5 days or packing for 5 weeks is 95% similar.
Paying a bike fitter is well worth it.
Store food and liquid in Ziplock bags. Store clothing in dry bags.
Daily kit/bike cleaning + stretching is essential. even if it's minimal.
Cycling gear is overpriced. If you know your size in a brand, buy 2nd hand. My sunglasses (Oakley Sutro road) were 90€ second-hand, mint condition, vs 160€ new. Rapha jerseys were 70€ vs 170€. I wouldn't get used bibs, the rest is fine.
Cycling with cars/trucks requires mental adjustment and require energy
Full-frame bag act as a sail, side wind can be super dangerous.
Cycle with visibility cross-belt and flashing rear light (the expensive kind) any time you ride, in any condition.
Europeans, get your euro insurance card for free! Look into how travel insurance works. It's not as fun as route planning yet it's helpful.
Travel with 2 credit cards and one paper copy of your ID.
Train on a loaded bike. riding 100km loaded or unloaded are two different sports.
Any slope percentage beyond 10% is painful, and beyond 15% is dangerous. Unless you are a mountain goat.
Don't plan too far ahead. weather, health, and mechanical will dictate your rhythm.`
Owning a GPS is good. Mastering your GPS/routing is another story.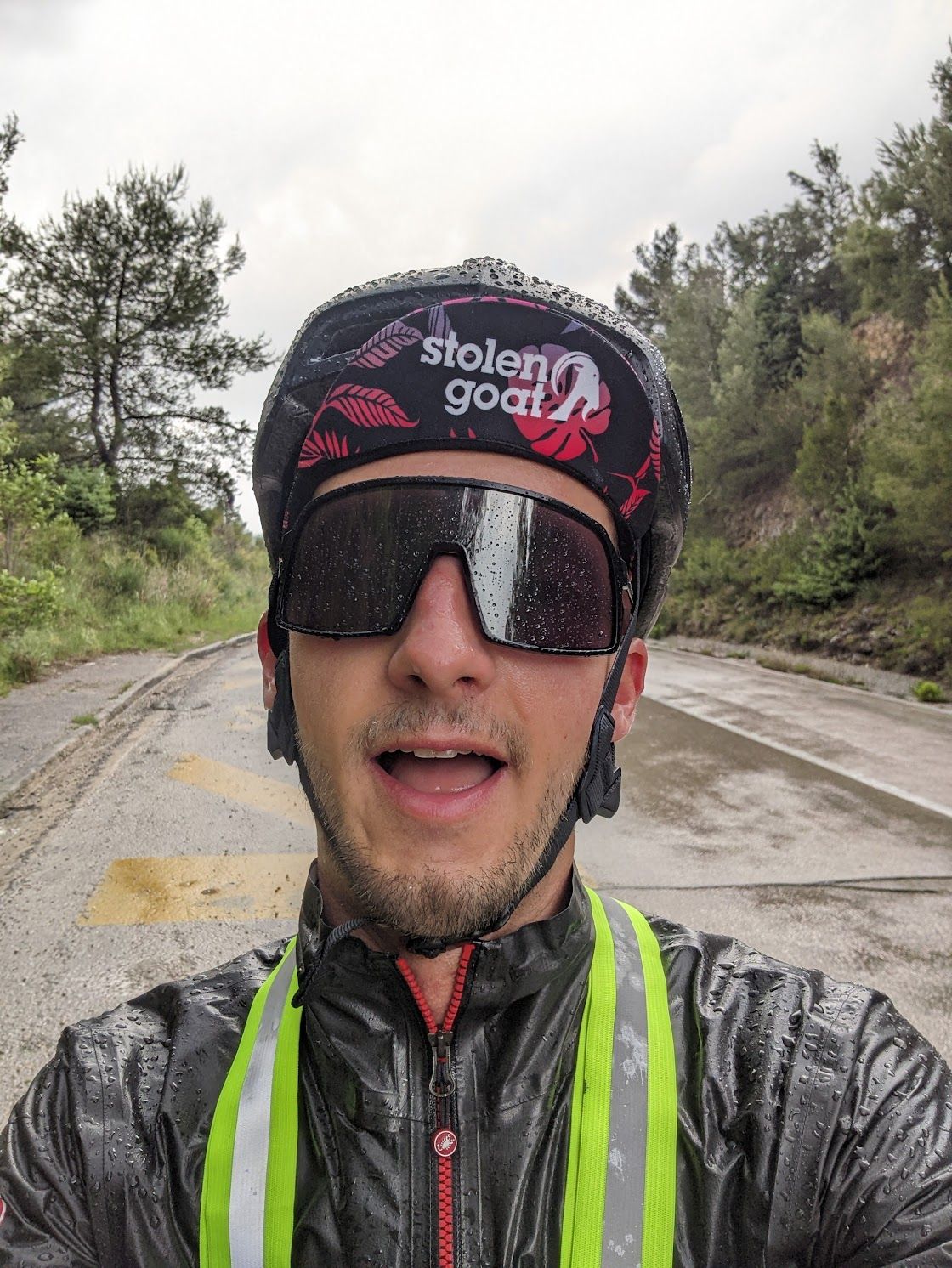 What's next?
Had such a great time. I have the feeling of having traveled for 6+ months.
I don't feel like I need to travel that long in the near future, I can't wait to go back riding either. I rode 6,000+km over the last 12 months which was wonderful.
I also learned about my limits. For instance, I'm scared about descending steep mountain slopes. That wasn't so much fun. I'm now focusing on my recovery.
My biggest learning is that I enjoy riding with others just as much as I enjoy riding by myself, hoping to share more rides in the future.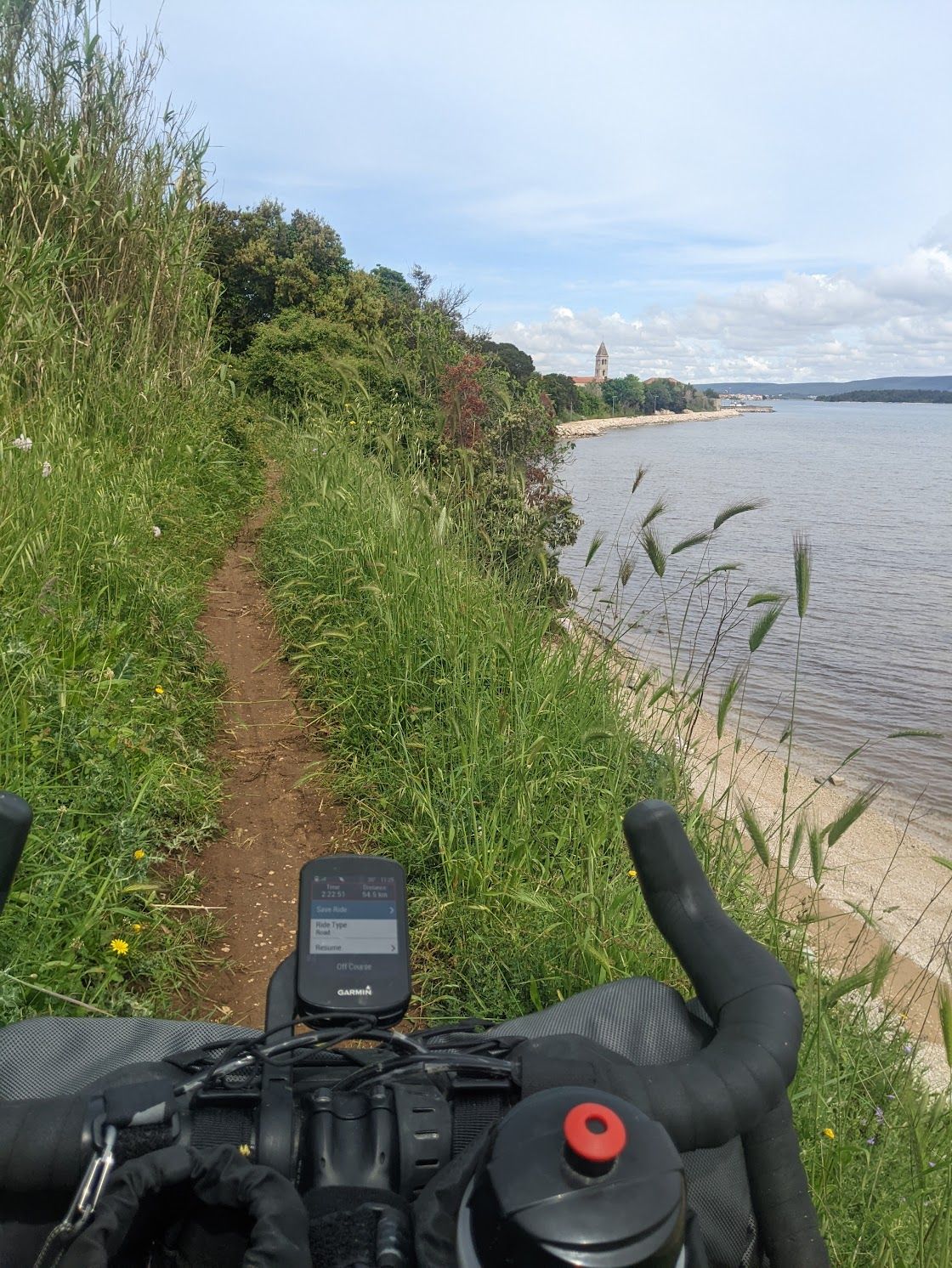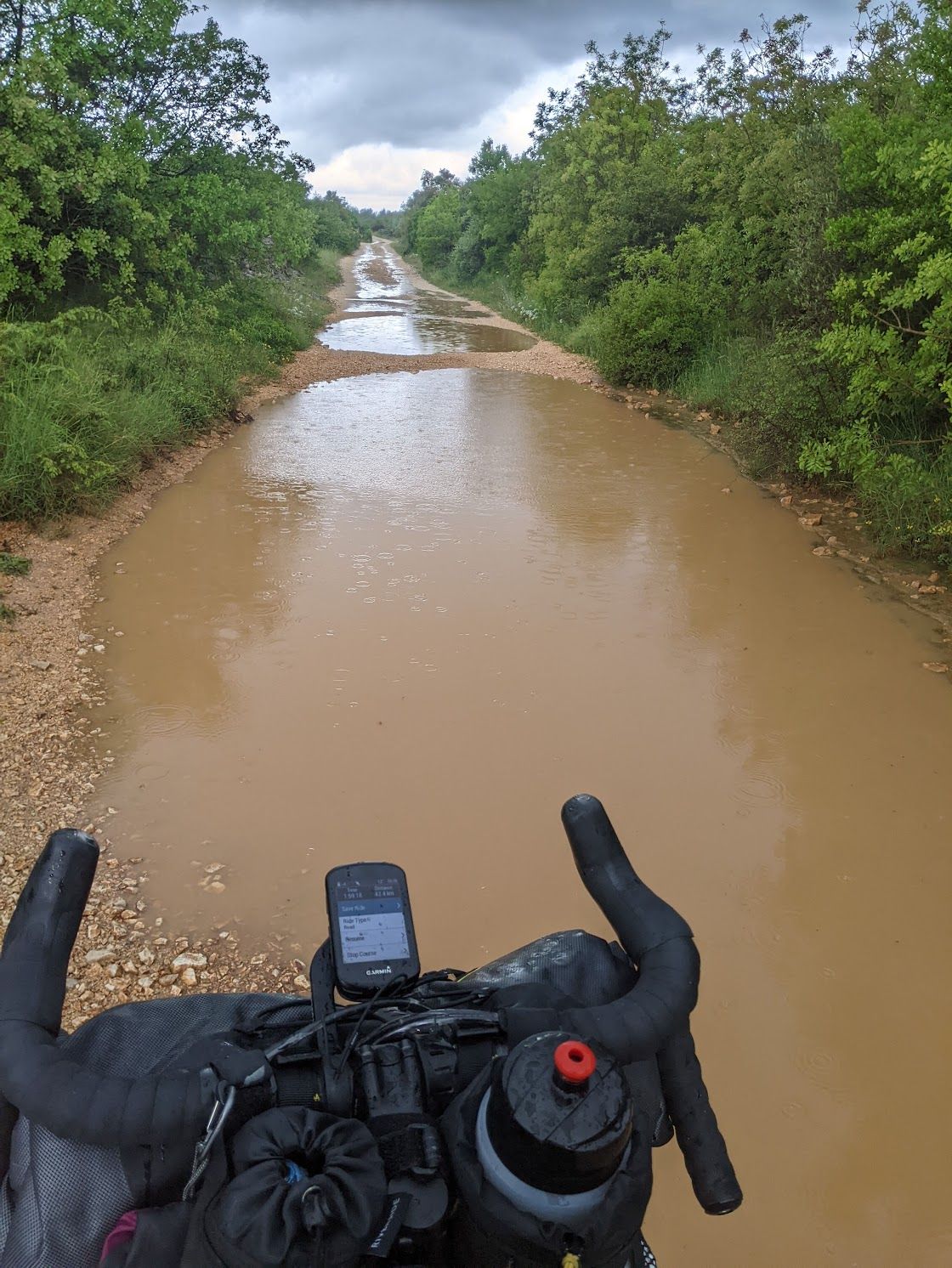 Video Inspiration
People who inspired me by sharing their set-up on video and explaining what they brought along and why: